Umar M Shareef Aisha English Lyrics Meaning And Song Review
Aisha song is a strong touching masterpiece that is written creatively by the great iconic maestro singer known popularly as Umar M Shareef. The mighty love song was recorded brilliantly, and later released on the date of January 14th 2022, exactly one month away from the mighty Valentines day of the year.
However the song was listed among the wavy trendy heavy project of Umar M Shareef as Album, titled Farin Jini that was released on the date mentioned above.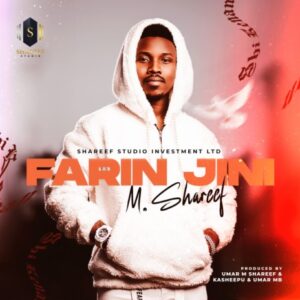 Meanwhile, looking at the song title, the word Aisha is an individual name usually used by Hausa society, it is said that those with such name naturally possess the beauty traits in many aspect, both in physical and psychological.
Umar M shareef used the song concept in respect to the Aisha name as the love of his life, he musically describe how the magnitude of the passionate affection in attachment they have for each other, and also giving out lovely sensational narratives on the quality and condition of his relationship with; Aisha, as named.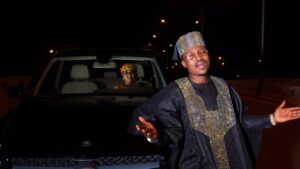 Moreover the mighty song was fully capacitated efficiently in both lyrical, vocal, and creative values, with his single talent he completely composed the track brilliantly, leaving no vocal space of any kind on the beat. This signify the absence of collaborative feature totally, which equals to, he did it alone and super amazing.
Check Out Umar M Shareef – Aisha Lyrics Video Below:
Complete Aisha Song Lyrics
Aishaaaaaaaaaaaaaaaaaaaaaaa
Aisha
Ai
Aisha
Ai
Aisha
Aisha ta
Sonki ya kama zucia ta
…
Na yarda tushen farin ciki ce amma in kayi dace
Tunda qiyayya ta zam gubace,soyayya waraka ce
Rigakafi nayi tuntuni na samu magani
A masu jinya ku fitar dani akwae mai kula dani
Kunganta nan tana da alkunya
A bita nan ta iya soyayya
Takai matuka gaya a gurinaaaaa
Aisha
Ai
Aisha
Aishataaa
…
Kin fita daban da yan mata
Kece gaban su kinyi rata
In babu ke akaini makabarta, bazan iya aure da kowa baaa
Kullum tarairaya in anka bani ke
Banso kisha wuya, zanyo kula da ke
Abunda kika so zanyi shi
Wanda Baki so zani barshi
Bazan saki kuka baaaaa
Aisha bazan Baki haushi ba
Zaki ga gata aisha ta
Aisha sarauniyar mata
…
Akwae ta da kyan kallo
Tauraruwa in ta bullo
Diyar fulani yar fillo oooo
Kun ganta kyakkyawa
Son kowa
Mai ladabi ga kowa
Bata da damuwa
Bata raina kowaaaa
Yan mata ku kauce
Wannan ta daban ce
Kwalliyarta da ban ce
Tafiyar ta daban ce
Kar ta sani na zauce
Aisha aisha ceeeeee
…
Daina fada kin fisu
Kece gatan su
Aisha dawisu 
Na baki suna sarauniyar mataaaaaa
…………
Uuuhhh Aishaaaaaaaaaaaaaaaaaaa
Umar M Shareef Aisha Official Video
The mighty song also has a video projects which was officially shot and directed by the known Only Play, and somehow the video project happened to feature the known Northern star Actress, Aisha Humaira as the face of the video. The quality and the efficiency of the song is all displayed on this particular projects.
Check Out Umar M Shareef – Aisha Official Video 2020 below:
Umar M Shareef – Aisha Mp3 Stream Download
Listen to Umar M Shareef – Aisha Mp3 Below:
Conclusion 
The amazing part of the Aisha Song by Umar M Shareef is the sweet bouncing pattern and cool touching lines in a sweet soft vocals that compound the total musical quality of the song in general. However, the song contain only the talent investment of the star alone, in lyrical, vocal and creative aspects.
Check Out More Interesting Updates
Mp3Ghetto is always here with a bunch of open hands craving to facilitate your highly experienced sensational entertainment Journey.
Follow for more exciting updates with substantial ingredients of your classic taste in music and entertaining programs.
Hamisu Breaker Yar Arewa English Lyrics Meaning And Song Review
Auta MG Boy Soyayyace Ta Hadamu English Lyrics Meaning And Song Review
BOC Madaki Ft Odumodublvck – Amarya English Lyrics Meaning & Song Review
CdeeQ Ft Deezell – Shiru English Lyrics Meaning & Song Review
Babskid Soyayya English Lyrics Meaning And Song Review