Salim Smart Nayi Mafarki English Lyrics Meaning And Song Review
TRACK DETAILS ⇓
Artiste Name: SALIM SMART
Song Title: Nayi Mafarki
Released Date: January  1, 2023
Format: MP3/Audio High-Quality KBPS
Nayi Mafarki song is an amazing sound track that is written highly talented by the super iconic maestro Northern Nigerian Hausa singer, famously known widely with the name Salim Smart. The exclusive song was recorded and then later eventually dropped officially on the date of January 1, 2023.
The super exclusive sound track is known as one of his latest best and trendy sound hits that is still making waves in the air and noise on the streets. It is composed in a calmly brilliant manner which exclusively ignites many glorious incidents over his legendary musical offer.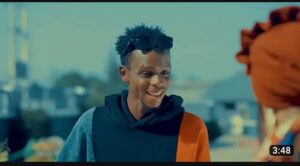 [Mini Bio]
Meanwhile, the popular star Salim Smart, with the real name Salim Sadiq is a known Nigerian singer who was born and raised in the city of Jos in Plateau state of Nigerian in the year 1994. The Amazing star has been in the music game for over a decade, ranging from the year 2011 up to date, and incredibly with a strong evolving nature.
Salim Smart has remarkably display great capabilities, in both vocal and lyrical manner, his exceptional records rendered a lot over the years which creates his current musical standard and overall quality as an artist.
However, the song title Nayi Mafarki is been assessed musically special by the mp3ghetto media which turns out to be Hausa word that literally translates to "I Had A Dream", this is somehow special given the fact that the song title itself stands for affectionate view, so also the song concept in general.
Salim Smart Nayi Mafarki Lyrics Video
Check Out Salim Smart – Nayi Mafarki Lyrics Video Below:
Salim Smart Nayi Mafarki Song Lyrics
Nayi mafarkin am muna aure, wai jiya muntare
Gani amarya kai kuma ango barci ya kare
Sumbantun da nakeyi kai ka dauka na zare
Kaci farin wanka ni na saka leshi na kore
Na rike linzamina
Nayi ladab mun zauna
Ranar aurena burin da nake ka zamo ango
Idan kaga nayi kuka murnace ga babban logo
Burina aure mun tsallake kato tun zango
Nayi tsaf nayi shirya ta Fulani baby ko jango
Zoka cikan burina
Ai mana auren kauna
Kafi magarya kurna baby na babban zaki
Zauna
muyi tadi
Karka gudan in rasa kimata
Nina rufe kofa kai dayane wanda nake qauna
Sonka nakeyi da gaske
Wanda ya sanka Ina yimai kara
Zo ka riqe mini sosai alqawarina karda yaje shara
Ka iya firta kalamai inka yi zance sai in tattara
Da daddare in an kwanta sai in tuna ka In dinga nishadi na
Zo bude
mai sona karka rufe mini sirrinka
Ya labarin qauna ta ya likide a cikin ranka
Dan gayu da turare
Kamshi ko yaushe tufafin ka
Ka zam fitila ta ni, mizanin auna muradina
Ka zama ni
Na zama kai bisa lissafi bisa lissafi mun zama dai
A sanya maza duk a shara
In bakai ba ni dai
Har daga kan da kake yi ma mata kayimin dai dai
Sunce girman kaine
Nace nina saka kayi baby na
Zauna
muyi tadi
Karka gudan in rasa kimata
Nina rufe kofa kai dayane wanda nake qauna
Salim Smart Nayi Mafarki Official Music Video
Check Out Salim Smart – Nayi Mafarki Official Music Video Below:
Salim Smart Nayi Mafarki Mp3 Stream Download
Listen to Salim Smart – Nayi Mafarki Mp3 Stream Below:
Check Out More Interesting Updates
Mp3Ghetto is always here with a bunch of open hands, craving to facilitate your highly experienced sensational entertainment Journey. Follow for more exciting updates with substantial ingredients of your classic taste in music and entertaining programs.
Salim Smart Lissafina English Lyrics Meaning And Song Review
Salim Smart Na Fara So English Lyrics Meaning And Song Review
Salim Smart Sarautar Mata English Lyrics Meaning And Song Review
Salim Smart Allah YaJi kaina English Lyrics Meaning And Song Review
Salim Smart Muradina English Lyrics Meaning And Song Review