Namenj Dama Lyrics Meaning & Song Review
Dama, is a song fully written by Hamisu Yusuf, Ali Namanjo and Ademola Tarka, the song was released on 6th March 2021, a brilliant rhythm that was sponsored and promoted by Empawa Africa. The meaning of the song "Dama by Namenj featuring Hamisu Breaker is "Privilege, Chance, Opportunity" and the song narrates the excellent doings that will treat your female partner well in a relationship. Namenj uses nicely vocal spellings that can revive love that could bring good posture in a relationship.
His merged forces with Hamisu Breaker has yielded an extra flavor resulting to be one of those all time live jam that will stay afloat throughout the whole decade. They structured a very detailed outline of relationship scopes and happenings that will put every partner on spectacular position of love.
The embedded video below is the official lyrics audio of Dama by Namenj featuring Hamisu Breaker on Youtube. Continue reading to understand the lyrics meaning of Dama song and official review from Mp3ghetto while it plays on background.
Namenj Dama Featuring Hamisu Breaker Lyrics Meaning
Dama Lyrics Meaning will be summarized as a loving and caring song unleashing the good sides, steps, measures and reasons why your partner is the choosing one. He states clearly those qualities that made his girl standout in the midst of other women.
Namenj have taken legal route in the game via making loved up vibes as ways of expressing his feelings in most of his released songs. The high taste vocal creator take it smooth with his explanations in Dama giving some caring and more attentive rhymes inbetween the settled afro beats.
Lets take a line-by-line lyrics analysis and the truthful meaning of Dama Lyrics by Namenj featuring Hamisu Breaker.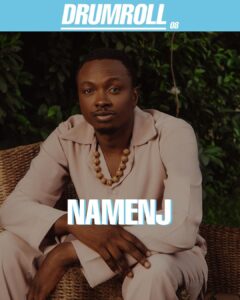 Intro/Outro Dama Lyrics by Namenj ft Hamisu Breaker Meaning
He started by throwing some loving up greetings that will attract every girl, lines like "Baby Ina Kwana, Ina Gajiya Shin Kin Tashi Lapia" are early morning greetings that Hausa people normally use to communicate.
His rossy rhymes and storry telling lingual has smart measures to absorb more ears from the audience, already the song came through with enriching news. Currently the song visuals is sitting on 2.5million total streams on audiomack after two years of its inventory.
Towards the ending comes a repeated nice dosage of his loving charms, Soyayya Dadi which means Love is sweet defines how immersed full of joy the afro singer caught himself.
Dama Chorus Meaning
Namenj expresses what would had happened if she is the one he truly meet, its a rhythmic arrangement of what will occur when you finally hook up with your life partner. The chorus is very simple and straight forward exploring good message that will dazzle the audience.
Dama Verse 1 Lyrics Meaning
He gently ride in through the verse without disturbing the least chorus part, his entrance with colonies of love phrases are break down of some amazing moments that gives ecstasy and delightfulness found in love, Na Matsu singer weigh in smoothly structuring how a pleasing lover should approach his hearth-throb. The crispy stylish watery flow of rhymes has rounded up the tempos with quality resonance of melodies.
His inter-switch energy alongside Hamisu Breaker unbreaks legacy rhythm that is capable to maintain balance for far years coming without relenting. Breaker solely relied in expantieting how much more his friend Namenj love his partner, the singer did not corrupt, intercept or destroys the kicks and melodies. Every of the message Namenj was trying to pass in the song was modified by breaker as he attached meaningful and well comprehending lines that tallies with overall purpose of the song.
They arrange locally made words into a rewarding comprehensive storyline, the Empawa powered hit will continue to absorb more grounds in the industry with those evarlasting format of vibe and exotic visuals.
Dama Song Review
Artiste Name: Namenj
Song Name: Dama
Duration: 3:206Mins
Released Date: 05 – 03 – 2021
Format: MP3 High Quality
Label: Empawa Africa
Number Of Hit Songs: 5
Number Of Music Videos:
Dama is a very calm afro love song by Namenj featuring Hamisu Breaker, they render an excellent rhythm worthy to amend every bad relationship.
Namenj is yet to have visuals with morethan 3.5million views on youtube, approximately Dama is the biggest Namenj song in the whole history of his career.
Dama audio is rated 8.5/10
Dama Music Video Review
The entry and Namenj outfit sweeping the premises of an exotic kitchen defines exceptionalism and uniqueness in concepts and swag. They calmly port through each tempo with attractive performances and actions.
Dama video is rated 9.0/10
Watch Dama Full Official Video Below;
Full Dama Lyrics
Baby Ina kwana

Baby Ina gajiya Shin kin tashi lafia Rabin raina Soyayya da kafiya Nake miki kin jiya Tabbas kin iya soyayya Rabin raina

Daama da ke na fara haduwa da Na yi aure tuntuni

Zama dake akwai karuwa hakika ni kina burgeni

Daama da ke na fara haduwa da na yi aure tuntuni

Zama dake akwai karuwa hakika ni kina burgeni wayyo

Soyayya na da dadi

Lobayya na da dadi Amma dake tafi dadi wayyo

Soyayya na Da dadi

Lobayya na da Dadi Amma dake tafi dadi wayyo

Daama zaki yarda da duk batunsa na soyayyane

Kema ki amince da kuddirinsa na alhairi ne Wanda tasiri ne A zuciya ki zaune Ya baki zuciya tai duka kyauta autar ma Zan so ki bi yarda Ki gaya masa kin ragi tsada Ni batun na jaddada ki gwada min zaki mutulta Ki dakata kiji yanmata A yau bikinku muke fata Mun shaida kun zama yan gata Ki tausawa ma sa raina

Kaunarki ta kama ni tun farko

Ni fatana ni da ke muyi karko Aurenmu da ni da ke yai karko Mu haifi yaya ma su albarka

Daama da ke na fara haduwa da na yi aure tuntuni

Zama dake akwai karuwa hakika ni kina burgeni

Daama da ke na fara haduwa da na yi aure tuntuni

Zama dake akwai karuwa hakika ni kina burgeni wayyo

Soyayya na da dadi

Lobayya na da dadi Amma dake Tafi dadi wayyo

Soyayya na da dadi

Lobayya na da dadi Amma dake tafi dadi wayyo

Soyayya dadi

Soyayya dadi Soyayya dadi Soyayya dadi

You can get access to more relevant contents below;