Hamisu Breaker – Jaruma English Lyrics Meaning and Song Review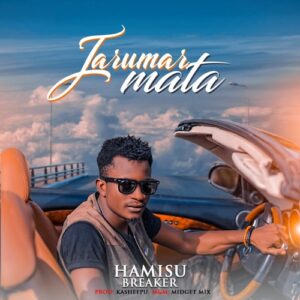 Jaruma is a love song written and made creatively by the well-known northern super amazing tune maker with the Name Hamisu, popularly known by the stage name Hamisu Breaker.
The song is an ultimate project done smoothly by pure talent and was released on the date of February, 6th of 2020.
Jaruma soundtrack is irresistible sensational love song which goes with the meaning 'Warrior' but in a romantic and super emotional manner. A warrior in a real sense is not only just a person with the highest weight of energy, risk, courage and zeal to be impeccable in a war, no, generally, it means a person with all that powers to be pure in whatever perspective of a life reality, either emotional or physical.
Hamisu Breaker started with the lines "Ashe da rai nake sonki jaruma Bada zuciya ta ba" which stands for "Thought I loved you from the heart not knowing is right deep from my soul".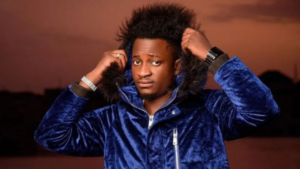 He tremendously sing out his sweet vocals deeply nice in the song beat increasing musical efficiency of the touching love song. He has been in this highly performed form ever since his unstoppable flow penetrate a widely range audience.
The song was made by the star singer alone without a feature, and with that he gallantly decorate through the sweet sound with his pure talented product in an exceptional way. His aromatic plantations of nice lines and amazing flexibility in pattern has another value itself to consider.
His exceptional order of creativity rendered on the track has marked a quite remarkable advancement, giving the track a value of distinction by modifying every corner of the beat with his sweet touching lines and vocals.
This song has marked the first of its kind in terms of streams magnitude in the YouTube platform accounting for over a million streams in a very short duration by standing today, accounting for over 11million streams now.
Fr the mean time, I will be providing you with Hamisu Breaker Jaruma song video lyrics to have an entertaining journey in reading through this article.
Check Out The Hamisu Breaker – Jaruma Lyrics Video 2020
Intro & Outro
The song intro and outro is same as usual for the maestro's, a simple and easy inlet of the song instrumentals from the beginning is more than enough for a strong intro. The silence that is never boring to start with and then the the sudden emergence of the song verse lyrics.
Same as the intro but slightly different in the sense that the outro posses the outlet title giving the exit portal to the outro space of the beat. But then this time it is going to be the song lyrics going out with the sudden emergence of silence down to the exit route of the song.
And for the records, before you say I skipped the chorus, the mighty song has no breathing space for a particular chorus unless that every bit of the loving song can beautifully serve as the chorus given the way he professionally planted his special lines in the song.
Complete Lyrics Of Hamisu Breaker Jaruma Song
"(Beat amjad records)
Ashe da rai nake sonki jaruma Bada zuciya ta ba
Komai ruwa da iska akanki baza daina kewa ba
Idan na samu zarar samun baza na tanka Kowa ba
Ni banga mai harara ba bare na wai ya
Indai akanki ne zana jure wahalar zuwa garin nisa
Da an tabaki a jirani Dan kuwa tilas kazo na dai fansa
Jumurin jiranki nai Dan kizo na kalleki gimbiyar Hausa
Sirri na rayuwata kece kawai da kin kira dana amsa
Zuma a baki dadi gare ta kin bani taki na lasa
Indai a kanki ne nayi nisa dan ba kiran da zan amsa
Tilas ganin mu tilas barin mu kaunar ki tunda nayi nisa
Sam ba batun nasa fasa ko za'a ce mun in bada rai fansa
Tsarin zubinki dai dai ne, Ya kama zuciya ta ne
Ina jin kamar mafarki ne, Ina sonki so mataki ne
Ni banda damuwa idan har zan bude yan idanuna
In kalleki gaki daf dani to me zaya damu kalbi na
Yauwa Za nayi amo tunda na gane kina da tausayina
Dan yanzu na zamo ya Mafatauci mai bidar gurin kwana
Na kwallo shela dan sanar da iya maliya Kalamaina
Daga zuciya nake kwatanta ina zayya no jawabaina
Idan babu ke ina ne zan saka zuciya ta bar yawan kuna
Kowa da nasa amma kece Ni kece cikar muradai na
Yau gani A Ruwa kusa da kada zo ki ceci karko na
Komai da mafuta karda ki saba da furta ban kwana
Inajin ina gani yadda nake sonki yafi karfi na Nasan a duniya da wanda yake janye duk tunani na
Soyayya rayuwa wani sa'in sai tazama wutar kuna
Duk wanda ke cikinta shi ne jurau amma fa A wurina
So na faranta rai da ruhi yasa kazama kamar sarki
Kuma rayuwa dawo misali mai kama da a mafarki
Samari muyi hakuri idan har mun samu so musa sauki
Yan mata muyi hakuri idan har mun samu so musa sauki
Masoyi yana da rana ne
Masoyi yana da rana ne
Masoyi yana da rana ne"
Jaruma Song Video Review
Jaruma song video is an exclusive concept compiled with extraordinary destinations posessing high aesthetic displays. The video was shot in Bauchi state northern part of Nigeria at the amazing Yankari Games Reserve.
Wikki falls is one of the beautiful part of this display seeing it's natural quality giving sweet romantic atmosphere for a loving scene. I know you may be too curios by now to see with your eyes, but don't rush my only wish is your satisfaction.
Tremendously, Jaruma Music Video accumulates over 11million organic streams on YouTube, generating more and highly successful impacts in other music platforms like Audiomack and Apple Music with more organic streams averagely counting to about over 1million organic streams.
Check out the Hamisu Breaker – Jaruma Official Video 2020 below for more entertainment and justification.
Social Media Impact
Some certain social media demonstrations emerges on the song trend peak, with this one provided below, I think it will be more than enough.
But I will not let it go without a simple words of compliments showered by the fans across the socials causing several exciting demonstrations from many productive fans including such like @ArewaMelody with the lyrics video shown below.
Hamisu Breaker Jaruma Live Performance
In conclusion, Jaruma song by Hamisu Breaker can be summarized as a gigantic project that excel overly surprising with high global recognition and strong fan base generation.
The song is a love vibe constructed with a very sensational build up lines composed in a very sweet musical and calming manner giving loving souls a sense of hope in the lovely romantic journey.
Jaruma By Hamisu Breaker Mp3 Stream & Mp3 Download
Check Out More Updates
Mp3Ghetto is always here with a bunch of open hands craving to facilitate your highly experienced sensational entertainment Journey. Follow for more exciting updates with substantial ingredients of your classic taste of music and entertaining programs.