Hamisu Breaker – Burina English Lyrics Meaning And Review
Artiste Name: Hamisu Breaker
Song Name: Burina
Duration: 3:18Mins
Released Date: 05 – 03 – 2023
Record Label: —-
Production: —-
Format: MP4 High Quality
Article: Burina English Lyrics Meaning And Review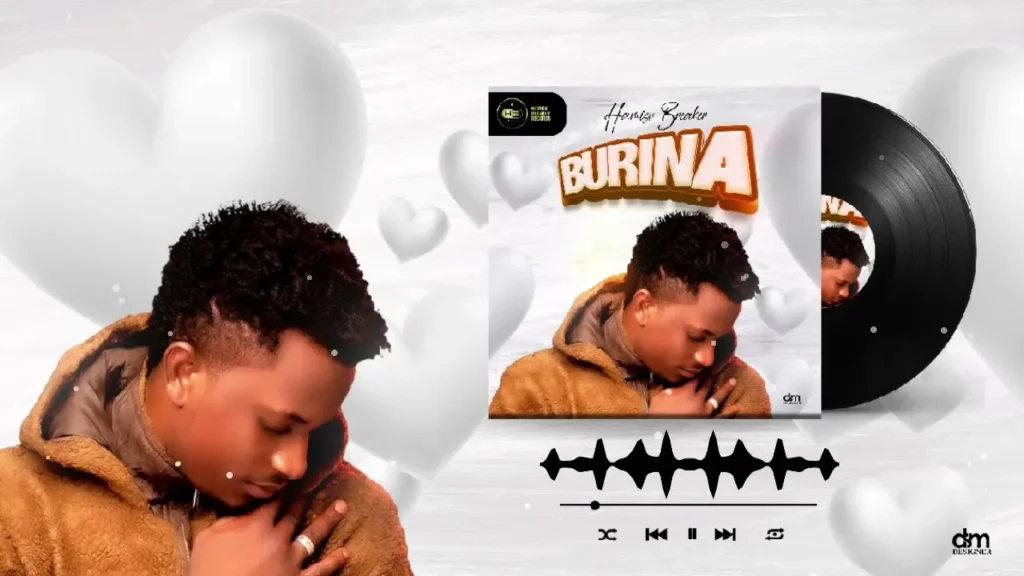 Hamisu Breaker – Burina English Lyrics Meaning And Review
Burina is a sensational rhythm of pure emotional expression, written and made alone solely by the dazzling star singer Hamisu Sa'id Yusuf, known popularly by the name Hamisu Breaker. The mighty love song, Burina by Hamisu Breaker was released on the 05th Of March – 2023.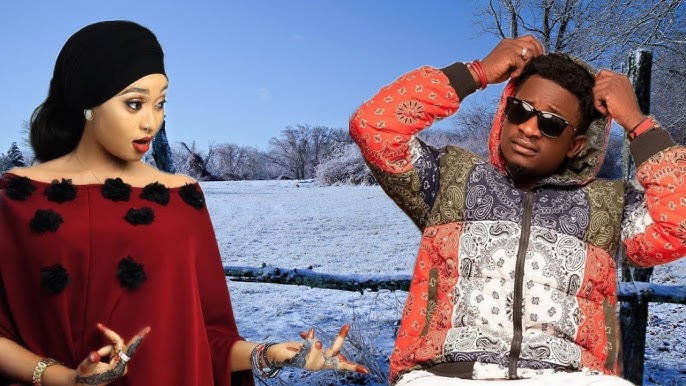 The strong sensational sound, Burina means "Desire, need, hope, and Goal" which explains the natural nature of the emotional desire for lovers to always have each others presence in abundance. Hamisu Breaker distinctly express his deepest touching desire in an exceptional manner, describing how powerful he's attached to his partner in love.
He started with a sweet touching lines that says "Babban Burina Ki Kasance Dab Dani" which means His Biggest desire is for her to always be closely around him, with him, and for him. This actually expresses how intimately his desires is to always have her limitless presence around him, and it also refers to the magnitude of happiness either presence produce for one another.
It is somehow exciting how he professionally arranged his narrative in an astonishing manner that forcibly trigger any sensible loving heart most especially, to the one solely transmitted to.
I will be providing you with more detailed but summarized meaning of Burina song lyrics by the dazzling Hausa singer Hamisu Breaker, follow through for a better clarification of this sweet soft touching song.
Firstly, you need to see and read through the lyrics video of Hamisu Breaker Burina song for you to speedily assimilate the composed message contained in the song as you follow through this article by Mp3ghetto Media.
Initially, check out the compile lyrics video of Hamisu Breaker – Burina Lyrics below:
Meanwhile, I will like to picture for you some essential point of quality indicators of this special love piece which defines some exceptional feature of the song in spite of the lyrical, melodically and  flexibility quality of the song.
If you can check carefully you will notice that the song is exceptionally straight, containing no chorus but rather straight descriptive verse compiled with hooks and backups.
Intro And Outro English Meaning Of Hamisu Breaker Burina song & Review
Professionally, the Intro And Outro of Burina song by Hamisu breaker is a new creative influence of the star singer which contain a simple straight meaningful line and also functions as an opening or can be seen as foundation of the lyrical build up of the mighty love song.
The Intro Lines – "Kiduba Kanki Ana Kallo Na" which means "as you can see all eyes on me because of you"
The intro line is a part of the song verse describing to his partner how people are looking and some pointing fingers on him because of his love for her.
The Outro Lines – The Outro is some kind special exit of silence giving space for the beat to excitedly escort out of the song in such a way that the lines in the end of the last verse lyrics serves as transitive point from his vocal exit to the beat takeover as outro.
Full Lyrics Of Hamisu Breaker – Burina with English Meaning and Review
Hausa                                                                                                                              English Meaning
Intro
"Kidubaaaaa Kanki Ana Kallo Naaa"                                                                            (see all eyes on me because of you)
First Verse
"Babbannn Burina Ki Kasance Dab Dani"                                       (My prior desire is for to always be closely around me)
"In Zaaakiii Irga Masoya ni ki sannnyo dani"                                                                       (Count me in as your true lover)
"kidubaaa kanki ana kallo naaa wasu nuniii"                      (See how they are looking and some pointing fingers on me                                                                                                                                                                              because of your love)
Nikuma nacee naikaii naki ne ban fadi bah                                                               (And I stand fit for you never falling)
"Sakooo ya bayyana ne tunnn daga zuciya"                                                     (It's obvious the message is right from heart)
"Sannannn Kaunarki tana kamannn zuciya"                                                    (And your love is holding more of my heart)
"Kinkaaaaama mini kurwa ta tun jiya"                                                                           (you caugth my soul since yestarday)
"Har yaaaa kai matsayin bana samuun lafiya"                                                                            (It got to the unhealthy point)
"Kin shiga raii na kin zauna dan kin samu guri"                                            (You pierced and sit perfectly fit in my heart)
"naji kiran ki, na amsa kuma nazo da wuri"                                        (I heard your calling, I answered and came right                                                                                                                                                                                                                 away)
"Kece Farkooooo kuma kece karshe"                                                                                   (You are the first and the last)
"bishiyar nannn tayi girma wanda kikai mini dashe"                                                            (Your plant flourished in me)
"Bana jii Bani ganii, bana son mai kushe"                                      (My eyes and ears are closed and I dislike whoever                                                                                                                                                                                        talk bad of you)
"Burinaaa in rayu dake har numfashin karshe karshe"                            (My desire is to live with you to the last breath)
"Kin rikita dukka tunani na"                                                                                                    (You destabilize all my thoughts)
"temaka ki bani gurin kwana"                                                                                              (Help and give me a sleeping space)
"sonki ya hana mini bacci na"                                                                                                        (Your love wont let me sleep)
"ina ganin ki har a mafarki na"                                                                                          (You are always in my dreams)
"Son ki yanaiiiiii min dadi ban son mura bu"                                                                  ( Your Love is sweet, I don't want to                                                                                                                                                                                            us to be apart)
ki jaddada jaaaarumta taki na dan kambu                                                                           (Prove your impeccable courage)
"Bani da kooomai sai ke"                                                                                                                        (I have nothing but you)
"Natafe waaa wani kwalke"                                                                                      (I am coming through like something else)
"Na dubi ki kunnnnan haske"                                                                                              (I hope for you to shine light in me)
"Dan na ji da keeeeeeee"                                                                                                          (For how I will be proud of you)
Last Verse
"Kalmomiii uku wanda kikai mini  ban mantawa"                                             (Three of your words I can't seem to forget)
"ke kika ceee zaki rayu dani so wanda bai gamuwa"                                                (You promised to endlessly live with me)
"Zaki hanaaaani kishin ruwa tunda zaki bani ruwa"                                (You will alter my thirsty by always being                                                                                                                                                                                                                my water)
"Zaki rikeeee ni muje koda anso muyi rabuwa"                                          (You will hold me tight to the end no matter                                                                                                                                                                                                                  what)
Review
The sweet soft touching and sensational loving song Burina by Hamisu Breaker composed some extreme level of professionality, highest peak of talent and maximum magnitude of creativity. The way he specially input his vocals sounding well touching lyrical love punch lines brings about the amazing foundation of the song quality.
His magical tones and impressive flexibility on the song instrumentals miraculously produced some certain emotional and highly sensitive frequency that bring up a falling loving heart to its feet making strong impact deeply.
Having this nature of straight forwardness in the song from the star singer impeccably enhances the song quality in a very musical manner.
The song quality is not only expressed in the song only but also some gigantic and trendy demonstrations from the fans on the song can clarify more of the song quality exclusively. It Accumulates a total of assumingly over 2million plays in Audiomack and other streaming platforms including YouTube.
The song attracts many demonstrations from the fans on most particularly social media platforms which i will give you some evident examples to vouch for this statement.
Check Out the Social Media Impact of Burina Song by Hamisu breaker
The song impacted enough to produce multiple several videos on social media platforms thus developing some king challenge which highly trended and left a remarkable mark on the long range statistics of the ranking charts.
This video was posted by the star displaying some high level influence of the track on high level fans involving celebrities listing Namenj and more as you will see in the evident video below
Continually, Burina sound track  possess additional quality displayed in suitable fits, bit by bit of the song beat has been musically legally justified in every aspect of it. Right from the meaning down to the exceptional patterns of vocal inputs enlarging through to the lyrics composition base on flexibility, creativity and fluency.
If you can notice well enough how he swung his vocals in the middle beginning, and deep in the middle to last of the instrumentals, you will only observe professionality in exceptional form.
Anticipatedly, this attracts many and most from the major, which involves certain reaction from Sarauniya TV dropping a well shot complete prototype video of Burina song which says – Sabuwar wakar (Babban Burina) Latest Hausa Song Original Video 2023 Lyrics By Hamisu Breaker that captures a lot of attentions due to the song influence in general.
Check Out below the Sabuwar wakar (Babban Burina) Latest Hausa Song Original Video 2023 Lyrics By Hamisu Breaker:
Further more is the Mp3 Download Stream portal of the Burina by Hamisu Breaker for your specific listening ears in a sensitive anticipative manner.
Mp3 Download Stream portal of the Burina by Hamisu Breaker
Hamisu Breaker – Burina Mp3
Mp3Ghetto is there for your latest reviews, lyrics meaning, celebrity updates and many more, we serve to shear every bit of your entertainment journey facilitating your experience in an exceptional way.
Check Out More Updates On Music Lyrics Meaning and Song reviews below for more exploration as we have it as a mission to facilitate your exceptional interest.
Namenj Dama Ft Hamisu Breaker Lyrics Meaning & Song Review
Ahmerdy Rawa Lyrics Meaning And Song Review
Ahmerdy Kallabi Lyrics Meaning And Song Review