Feezy Crime English Lyrics Meaning And Song Review
TRACK DETAILS ⇓
Artiste Name: FEEZY
Song Title: CRIME
Released Date: January 18th, 2022
Format: MP3/Audio High-Quality KBPS
Crime song is captured to be an amazing track, written brilliantly special by the known dazzling talented maestro, famously celebrated as Feezy. Crime song is officially noted to be recorded and then later released on the date, 18th February, 2021.
The song is noted to be incredibly listed among the mighty track list of the super dope compiled album project of the dazzling star titled, Kingdom EP.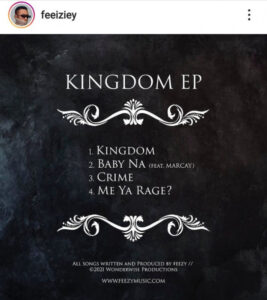 Crime sound track is one of Feezy's exciting and super stunning track that refused to seize in trending approach ever since been dropped. it is recorded to be one of his consistent tone ginger with high emotional and many more life situational expression.
Crime is simply noted to be an English word that literally refers to breaking law and order willingly without hesitation, but incredibly, this song concept describes it differently, with strong factual stands and experience impression.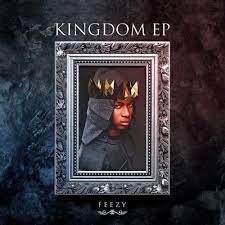 The song Crime is all about love and affection in a conceptual way, Feezy defines his love as inevitable by saying that, "Baby Loving you Is a Crime, That's why I am Wanted", he did some musical magic in singing the song lyrical value in general.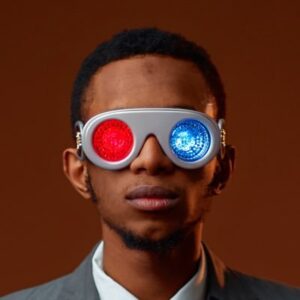 However, the song has been assessed enough by mp3ghetto media and incredibly realize the need to explain the qualitative measure of the talent singularity with high musical efficiency. The song did not record any feature invite, he brilliantly handled the complete song vocal spaces alone and superbly alone.
Check Out Feezy – Crime Official Audio Below:
Complete Feezy – Crime Song Lyrics
loving you is a crime,
That's why I am wanted,
oohh,
I'm criminal i am wanted
we are sorrounded
oohhh
if u are a me, and I was u
are baby what am going to do,
tohhh
baby I know u don't know what to do sai dai ki turanci cikin buhu ,(buhu……)
(chorus)
sun zo nema nah ahh aahh
zan bari suka Mani
Amma bayan bari suka ma kibah, ahh
Naɗau alƙawari kuma wallahi bazana saɓabah
Are we Dating dating
are we relating (lating,lating)
(mugudu,mugudu,mugudu bele
din bele dile)
(da gudu dagu gudu oohhh)
(verse 2)
last, last sun kamo Ni(kamo Ni)
kaman kifi aka tsamoni,
Baby baby run away (run away)
don't you worry I will be okay(be okay)
iiiii Naci duka kaman jaki
iiiii dan nace ni ke zanbi ahh
zan bari suka.ma Ni amma bazan bari suka ma kibah
naɗau alƙawari kuma wallahi bazana saɓabah
Are we Dating dating
are we relating (lating,lating)
(ki gudu kigudu kigudu ɗele ɗin bele ɗile) ohhhh 
Official Crime Song Short Video on Tik Tok By Feezy
Check Out Crime Official Short Video On Tik Tok By Feezy Below:
Feezy – Crime Mp3 Stream Download
Listen to Feezy – Crime Mp3 Below:
Conclusion 
Feezy is one of the best and the strongly talented Northern Modern Hausa song singer, his song has some strange unique taste in a highly consistent way that is super exciting and extremely dope. Meanwhile, additional credits deserved by the star is the pattern of flexibility and the nature of dynamism he possess on the track in lyrics.
More, is the efficient nature of the song quality, it is like a mixture of several unique talents, sounded accordingly sequential that produce musical power of sensational possession, spiritually special.
Check Out More Interesting Updates
Mp3Ghetto is always here with a bunch of open hands craving to facilitate your highly experienced sensational entertainment Journey.
Follow for more exciting updates with substantial ingredients of your classic taste in music and entertaining programs.
Feezy Utopia English Lyrics Meaning And Song Review
Feezy Ft DJ AB – Cele English Lyrics Meaning & Song Review
Ahmerdy Bako English Lyrics Meaning And Song Review
Auta Waziri Yar Budurwa English Lyrics Meaning And Song Review
Feezy Balla English Lyrics Meaning And Song Review