DJ AB The Heist Skit English Lyrics Meaning And Review
The Heist is a creative skit that is written, created, and recorded by the dazzling Northern star rapper known popularly by the name DJ AB. The Heist was recorded and later officially dropped on the date 1st September, 2023.
The sweet creative concept is listed as No. 1 officially among the mighty track list of the trendy recently dropped Album called Your Fav by DJ AB which serve as the intro of the mighty composed project in general.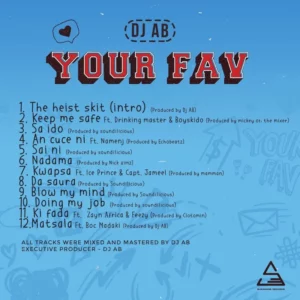 However, the mighty skit involves no vocal input rather than DJ AB's, and the creative concept was originally originated from the dazzling star artist making gigantic waves in the air as you are reading this right now.
As the title implies, The Heist describes vocally a scenario of the heist process in a very funny and entertaining way, although it is only vocally so far, but I believe the skit has now captured many, anticipating the visual of the sweet mighty concept.
I have the complete visual lyrical evidence of the skit, narrating accordingly as it goes, and it will be more clear as you can hear and relate the concept in astonishing manner. Below is the mighty skit lyrical visuals in according order showing systematically the dimension of the vocal narration.
Check Out The Heist Skit Official lyrics Video Below:
Complete The Heist Skit Lyrics
Yauwa, rataye ta                       (okay….. Hang It)
Oga zan iya daukan hulan nan?         (Oga can i take this cap?)
Yi shiru, yi shiru          (Quiet, quiet)
Kaai, toh me zamu dauka? (*Kaii*!…. What are we gonna steal then?)
Ga jakan mugu              (See His Bag)
Wannan?      (This One?)
Dauke ta, dauke ta           (Pick it up, pick it up)
Kai!                                      (*Kaii*!
Ah karka taba shi zai tashi       (No, Don't touch him, he will be awake)
Toh oga                                  (Ok Oga!)
Yauwa           (Alright…..!!!)
Komai na ciki?               (Is everything inside?)   
Oga jakan da nauyi fa  (Oga the bag is heavy)
Toh mu ware   (Okay let's go)
Mu bar nan, mu bar nan da sauri     (Let's leave, let's leave quickly)
Mu dau motan ne?           (Are we taking the car?)
Kai fa wawa ne                (You are a Fool)
Ko mu hau mashin?      (We should definitely take the bike right?) 
Zan- (Ahh)                                  (I will… *hot slap*) 
Oga me na ma?                    (Ahh, Oga what did I do)
Mtsew, wuce muje               (Mtsew, move, let's go)
Allah ya isa                           (God will judge)
Wawa kawai                       (Foolish Boy)……..
See you can take my computer
You can take my hard disk
You can take my ideas
My bag, my money
Kai, komai ma
But there's one thing you can't take away from me
My fried chicken
Ahahaha
Okay, okay tsaya
I wanted to say consistency
Erhm, no, wait
Consistency
Yeah
DJ AB – The Heist Skit Mp3 Stream Download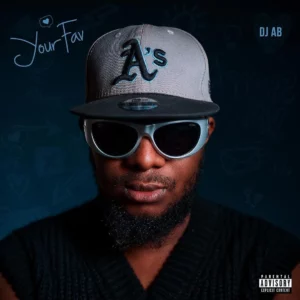 Listen to DJ AB – The Heist Skit Mp3 Below:
Conclusion
The Heist Skit is an amazing scenario concept that is highly compelling, though it is for now an ordinary audio providence but I believe the audio is captive enough to be highly anticipated by many massive listeners and more desperately the viewers.
Check Out More Interesting Updates
Mp3Ghetto is always here with a bunch of open hands craving to facilitate your highly experienced sensational entertainment Journey.
Follow for more exciting updates with substantial ingredients of your classic taste in music and entertaining programs.
DJ AB Doing My Job English Lyrics Meaning And Song Review
DJ AB Da Saura English Lyrics Meaning And Song Review
DJ AB – Blow My Mind English Lyrics Meaning & Song Review
DJ AB – Sai Ni English Lyrics Meaning & Song Review
DJ AB – Sa Ido English Lyrics Meaning & Song Review
DJ AB Ft Feezy And Zayn Africa Ki Fada English Lyrics Meaning And Song Review