Deezell Spotted Alongside Tekno Having Good Times Together In Anticipation To Black Roses EP
The Nigerian so called King Of Collaboration  as Deezell is exceeding ordinary greatness every clock, the vibe lord comes through with an amazing capabilities lately as he keeps dropping surprise packages day by day.
It was just of recent he released the most anticipated jam having bunch of features on it ever in the history of Nigerian music, the jiggy made the smartest move as he called upon all the limelight heads making good name in the street by the moment.
Namiji is already sitting on around 300k Streams on audiomack and 250k Streams of the official video on Youtube. Its also hit No 50 of the Top 100 Music In Nigeria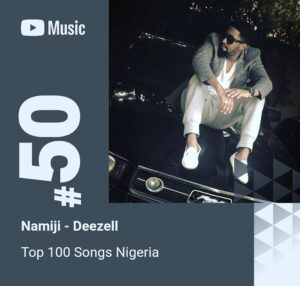 The Embedded Video Below is the official video of Namiji featuring Ice Prince, Hamisu Breaker, Magnito, Adam A Zango, Dj Ab, Morell, Kheengz, B O C Madaki, Nomisgee, Sojaboy, Lsvee, Fresh Emir, Feezy, Ahmerdy, Maidawa, Rapkeedo, Babayanks, Luttyfresh, Cdeeq.
After the trendy anthem he call upon the female celebrities for yet another dimensional trend which they called "Namace". The song spell some capabilities that only women can do, things that can never take place without a lady.
He earlier released the fresh episode of his Super Story series which is still gaining massive attention on as that fresh new dimensional submit.
Deezell was seen making fun of the Diana crooner Tekno who visited the King Of Collaboration home.
The 2 OGs are sighted on extreme behaviors having supreme times with each other, they are said to be dropping one of the hottest jam together titled "Amina" which is offing the incoming Deezell project "Black Roses EP".
Black Roses is said to hold 6 solid tapes featuring various top names in the game.
Watch Video Below;