Ali Jita Rukaiya English Lyrics Meaning And Song Review
TRACK DETAILS ⇓
Artiste Name: ALI JITA
Song Title: Rukaiya
Released Date: September 9, 2021
Format: MP3/Audio High-Quality KBPS
Rukaiya song is one of a kind love song that is known to be written creatively by the known maestro Northern Nigerian Hausa pop singer popularly called famously with the name Ali Jita. The exclusive sound track is known to have been recorded and then later eventually dropped officially on the date of September 9, 2021.
This amazing masterpiece is regarded as of the best among the best songs of the dazzling star that has been making massive trends in the air and on the streets, which exponentially accelerates the value and standard of his consistent musical offers.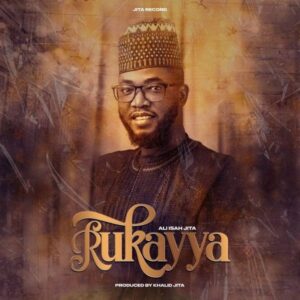 [Mini Bio]
Meanwhile, Ali Jita with the real name, Ali Isa Jita is known to be raised in Shagari quarters of Gyadi Gyadi in the city of Kano, he was born on 15 July in the year 1984 in Kano state, Kumbotso Local Government. His family then later on moved to Lagos, as his fathers business also thrives there.
The talented brain box is known globally for his exceptional music talent most especially his vocal quality and his lyrical efficiency which renders a lot about his musical standard and quality trade mark.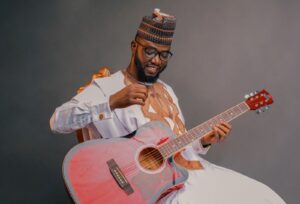 However, Rukaiya song, as the name implies is found to be known as a Hausa name by the mp3ghetto media which literally unified the song concept and the title, it is a love song that solely relates to the name implies and exclusively find out values and quality in aligning the song components.
Ali Jita Rukaiya Lyrics Video
Check Out Ali Jita – Rukaiya Song lyrics Video Below:
Ali Jita Rukaiya Song Lyrics
sannu sarauniya RUQAYYAH wanka gunki zasu koya
gimbiya yar dagwas RUQAYYAH da Allah gabansu juya
kinzama garkuwa RUQAYYAH
kiyi magana ki Tara gayya
Mai halin kwarai RUQAYYAH
keche Mai dubun masoya
tauraronki na dagawa
Mai haske kamar SURAYYAH
menene gimbiya RUQAYYAH
wake damun RUQAYYAH
Mai hakuri Ina RUQAYYAH
yar asali Ina RUQAYYAH
Kyakyawa gimbiya RUQAYYAH
wanka sae wajen RUQAYYAH
akwai tsafta wajen RUQAYYAH
ina buga tambaran RUQAYYAH
mata nata tambaya
giwa zaa bata girma lallai babu magiya
ae unkaji wance wance ceh
domin tai gwagwarmaya
aduba RUQAYYAH gimbiya
tun yarinta da tarbiya
yar manya yar sarakuna
kuneh ke haska duniya
dubu Tasha gaban Dari
dagani ae babu tambaya
kura Kuma bata cin kashin gwiwa sedai ta gwaguya
ga Dan kolo da malami
Sai an raya tsangaya
yara kunga RUQAYYAH jaruma
nidai nabada inkiya
sannu RUQAYYAH sannu sannu
kowa Keh yawa maraba
sai nasara da dadadawa
Sam bakisan bakin ciki bah
Allah neh yake tsareki
bah boka da Dan Adam bah
yanzu yabo muke agunki
bah kago halin muke bah
muyi jita Musa sarewa
bazai chanzan salan kidan bah
Yan yara nata harrakawa
manya mah baa Hana bah
Amintina kishiya ta dauri
bazanche karabiti bah
linzamin ya girma kaza
koh akuya bata nada bah
sama dai ta darar ma yara
sai hange basa taba bah
ynx RUQAYYAH che a Fili
tauraronta beh dishe bah
kainuwa dashin Allah
ynx RUQAYYAH tafi karfin su
Mai gado na zinari keche Zaki gaji BILKISU
kiyi ado na alkebba matana kiranki dawisu
wacce duk tazageki lallai zata dinga ni ya'su
RUQAYYAH ae sarauta che mata sun fada da bakinsu
masu so suje Bude Ido Nan zasu Kara kallonsu
masu so abasu abasu Nan zasu Mika hannun su
sannu daI RUQAYYAH
RUQAYYATOU gimbiya ta mata
sannu daI RUQAYYAH
RUQAYYAH jaruma ta matan duniya
Ali Jita Rukaiya Official Music Video
Check Out Ali Jita – Rukaiya Official Music Video Below:
Ali Jita Rukaiya Mp3 Stream Download
Listen to Ali Jita – Rukaiya Mp3 Stream Below:
Check Out More Interesting Updates
Mp3Ghetto is always here with a bunch of open hands, craving to facilitate your highly experienced sensational entertainment Journey. Follow for more exciting updates with substantial ingredients of your classic taste in music and entertaining programs.
Salim Smart So Da Hali English Lyrics Meaning and Song Review
Salim Smart My Love English Lyrics Meaning And Song Review
Salim Smart Muradin Zuciya English Lyrics Meaning And Song Review
Salim Smart Gubar So English Lyrics Meaning And Song Review
Salim Smart Nayi Mafarki English Lyrics Meaning And Song Review