Ali Jita – Aya Aya English Lyrics Meaning And Song Review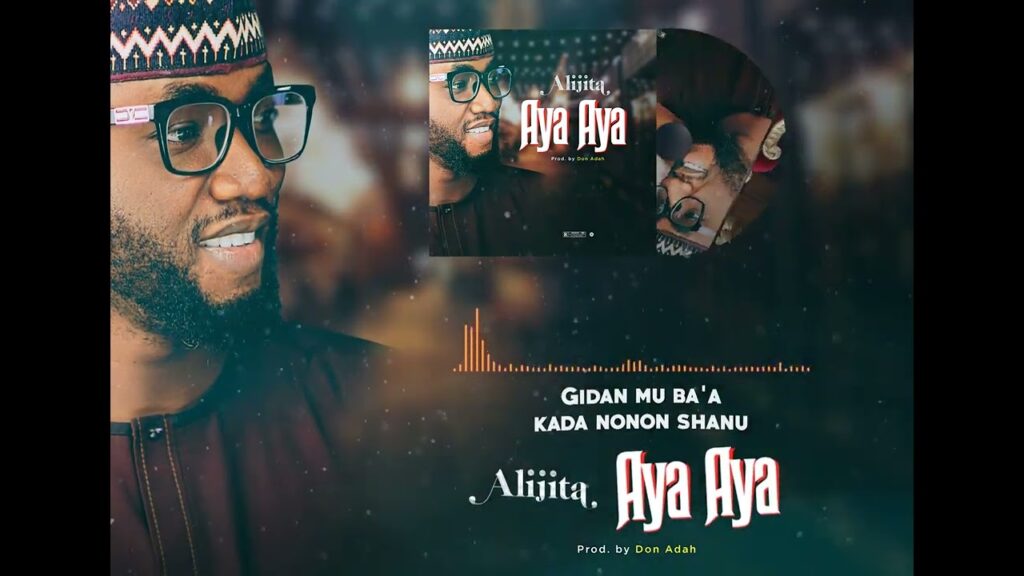 Aya Aya is a song written single-mindedly special by the widely known Northern popular Hausa singer Ali Jita, it is a sweet and highly sensational craft, done creatively to cure an unhealthy loving soul.
The well-vocally arranged mighty song was recorded and then later dropped on the 8th of May in the year 2022.
Especially, Aya Aya song involves no other artiste but rather the creative song owner, and his talented capabilities musically rendered the efficiency of the soundtrack in general.
Aya is a Hausa word that refers to a crop, and "Aya Aya" is an old  Hausa tradition rhythm that is normally describing the nourishment and nutritional value of that particular crop, which normally reads  as "Aya Aya Mai Nono".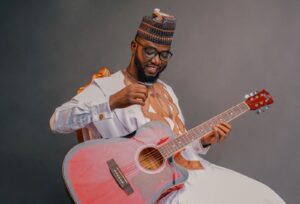 Ali Jita magically used the rhythm professionally, and modifying the tone in a modern way considering the beat is also in a modern form. He find his tune very sensitive in fixing vocals on beats, and  his pure creativity and maximum determination produces such standard of quality to his music and his music career in general.
The song exclusively has two solid touching verses with a chorus and some additional extensive advancement.
Primarily, Aya Aya song composed some sort of quality and gesture connectivity through to the soul with highly invested lines comprising the soft touching lyrics with high narrative value. The way he tremendously intertwined his sweet vocals in depth the beat and his flexible nature on the pattern assembly has a unique value.
The astonishing star singer started with the lines "A Soyayyar Da nake Miki Ban Canza Ba" which translates to "I will never change the way I love you"
I have provide for you the complete video of Ali Jita Aya Aya song Lyrics Video for you to clearly follow through the song Lyrics to be provide for you in written ahead.
Check Out Ali Jita – Aya Aya Lyrics Video below:
Intro & Outro
Ali Jita has been marked as one best Northern singer that can gallantly do anyhow vocally on a beat and ending up exclusively perfect, his intimacy with the mic has become too obvious in his songs.
He sweetly use creative sound that reads "Lala lala la lala la, Lala lala la lala la – Huh huh huh huh huh huhh huhhhu" just a simple uniform rhyme tone with a specific tongue and then suitably fits the song intro.
same thing goes with the outro of the song, this has been marked as their sign in a song as maestro's.
Complete Ali Jita Aya Aya Song Lyrics
Lala lala lala, uhmmm uhmm
Lala lala lala haha hahahahha
A Soyayyar da nake maki ban can zaaa ba
Komai zaasu fada maki ba shinee ba
Ina sonki (dare da rana)
cikin raina (dake nakwana)
Rabin raina, zinariyata
kinzamto jinin jikina,
Kiyarda Dani nabaki kaunaaa,(na baki kaunaata)
kiyarda dani nabaki soyayya (na baki soyayya),
Gaya mani damuwarki,
fata kullin naganki,
Gaya mani meyake daminkiii (meyake daminkiii)
Gaya mani wa yake damunki (wai wa yake daminkiii)
Na yarda dake kiyarda dani bana son kokawa
Sonata fada, wake kakkyawace kuma sonkowa
Nida zansamu fatana in'aureki
Sai kisha kuriminki, makiya zasuyi mamaki,
Zancenki daban, muryarki daban, kallanki daban
aadonki daban tafiyarki daban, takunki daban yake
Aya aya Maii nono (aya aya maii Nono)
ah ah oyah Oyah maii Nono (aya aya mai Nono)
Nace kiya kiya maii Nono (aya aya maii Nono)
oyah Oyah maii Nono ( aya aya mai Nono)
Gidan Mu Ba a kada nonon shanu (Lale huwa lale)
Gidan gu Ba a kada nonon shanu (Lale huwa lale)
Oh my dream girl, I love you just the way you are
Sweet melody, I like the way you make me sing
I wanna be close to you (closer than your eyes)
I wanna be close to you ( closer than your skin)
The butter on my bread ooo, the sugar in my tea oo * 2
Aya aya maii Nono( aya aya maii Nono)
Oyah oyah maii Nono ( aya aya maii Nono)
Nace kiya kiya maii Nono ( aya aya maii Nono)
Oyah Oyah maii Nono (aya aya maii Nono)
Gidanmu ba'akada Nonan shanu( lale huwa lale)
Gidanku ba'akada nonan shanu ( lale huwa lale) lalala lalala uhmmm uhmm lalala lalala hahaha
Ali Jita Aya Aya Mp3 Download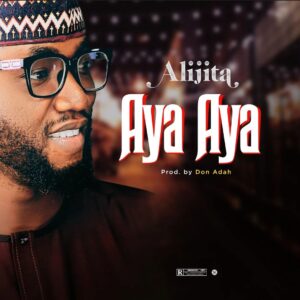 Listen To Ali Jita – Aya Aya Mp3 below:
Ali Jita – Aya Aya Song Video
Aya Aya Song Video is a beautiful video made in the northern part of the country, and Ali Jita portray a cultural view of some beauty and integrated with the colorful view of nature making the video exclusively classic.
The song has record till date to about over a million strems on YouTube, Audiomack, Apple Music And more.
It is obvious and incredibly amazing watching this video of the star Hausa singer Ali jita which has been known widely for his quality and talent. Check the video and enjoy to have your full entertaining detail of the subject in view.
Check out Ali Jita Aya Aya Offcial video below:
Ali Jita Aya Aya Live Perfomance Video
And Further more is the live performance video of Ali Jita Aya Aya Song for you to enjoy, please enjoy the perfect display of this luxuries wedding event with the live performance of the star singer Ali Jita Aya Aya Song.
Check out Ali Jita – Abdulmajid & Fatima Wedding performance video below:
Social Media Impact
Check  Out The Video Of @sadaurahama displaying beautiful gallery session of the northern star actress Rahama Sadau with the loving song of Ali Jita Aya Aya as the theme or background song.
Conclusion
Aya Aya soundtrack is a loving soundtrack made musically special, comprising high sensational value with a very enticing vocal inputs which dilute with flexible pattern of the creative singer that produce the mighty song of Aya Aya. It is certain about the claim about this iconic singer which signify his current value and standards in the Northern and the overall music industry at large.
Check Out More Interesting Update
Check Out Below for More entertaining latest updates from Mp3Ghetto Media, we strongly adhere to provide to you as an assistance in your world of of entertainment. Mp3 Ghetto is here to expand your entertainment vicinity by producing valuable entertaining contents for your own personal exploration.
Hamisu Breaker – Burina English Lyrics Meaning and Song Review
Ahmerdy – Mama Na English Lyrics Meaning and Song Review
Namenj – Dama Ft Hamisu Breaker Lyrics Meaning and Song Review
Ahmerdy – Kallabi Lyrics Meaning and song Review