Nafisah Abdullahi is a prominent Nigerian actress who gained recognition for outstanding performances in the Kannywood industry. She currently ranks among the top three highest-paid Hausa actresses, thanks to her exceptional talent and distinctive qualities, which set her apart and make her a standout figure in the Kannywood industry.
She is one of the most popular actresses who has never slacked even a single scene in all of the roles she acted before, Feenah is an iconic beautiful woman with some admiring features I will love to share with you here on Mp3Ghetto.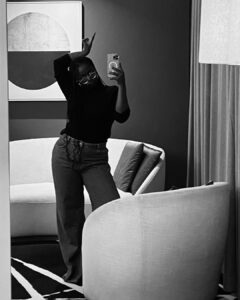 1. Focused/Hardwork
Consistent determination has set high boundaries between Nafisah and other celebrities in the Kannywood space, as you know achieving successful spot in this competitive regime in every industry is tougher than climbing mountain Kilimanjaro with your knee.
The relentless strategic placement of attitudes in scenes are those advancement that emulates supernaturality in Feenah.
She can easily manipulate your mind towards encripting your eye balls to be so contacted with the screen whenever the Black Beauty operates her sassy behaviors in scene.
2. Confidence
I love confident woman, a lady that can boldy stand on her words or wheel. Her posture, reactions and response in movies are retentive acts that amazes, she is a woman of high doings and always take each of her steps attractively in a seasoning positioning.
Her confidence is quiet second to none if i may call names off Kannywood stars.
3. Energy
I call her "First Lady with the Boss moves" because her lifestyle is full mood with the way she spray equity strength onto her actions in films rendering excessive power off what was given to her on script.
LABARINA is making waves till date due to her influencial roles in-between, it was all that she rolled out mesmerized viewers onto following the series episode by episode.
Even though she left the populous series but she finally got things resolved as she promised to embark on the journey once again so as to rejoice her fans.
Watch What She Said About Labarina Recently;
4. Intelligence
Beauty with brain is what makes a complete WOMAN to me, i sight Feenah as that adorable soul with educative mind extremely blessed upstairs as she lavish knowledgeable characters through her lifestyle.
Her tactics and ethics are bravery from IQ living body.
5. Highly Imaginative
The key to acting is the ability to create newer things beyond what was written on your script. She made acting a habit by staying comfortably in mood while on stage.
Follow Nafeesah Abdullahi On Instagram HERE